Written by

Jessamy Henricksen, Ph.D. Student and Sexologist, CQUniversity Australia
It's common practice in the world of gaming for serious video game players to upload videos of their gaming experiences to YouTube, usually for purposes of providing tips to other gamers, walkthroughs and highlights.
Last month, the YouTube channel "Shirrako" uploaded a video capture of a portion of the recently released video game Red Dead Redemption 2 (RDR2). The video depicted an avatar (the figure representing the player in a video game) physically assaulting a female character until she was unconscious. The video was titled: "Beating Up Annoying Feminist".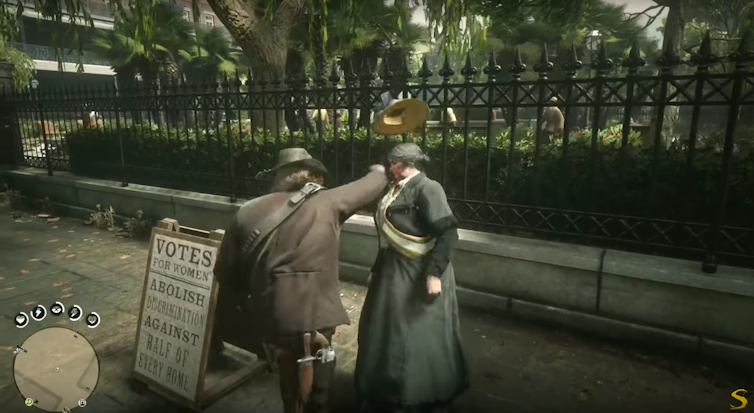 Screen Shot on November 16, 2018
Within days, the video had received more than one million views. While some viewers remarked that they planned to replicate the behaviour in the video, others commented:
The only good feminist is a DEAD FEMINIST

Giving women the right to vote was a mistake
Recent research into online gaming in the wake of the #MeToo movement sheds light on this kind of behaviour, raising concerns about the influence of gaming culture on attitudes of sexism and violence against women.
Read more: Curious Kids: Why do adults think video games are bad?
Depictions of violence against women
Following much hype and anticipation, RDR2 – the sequel to the videogame Red Dead Redemption – was released in Australia on October 26, 2018. Across the board, reactions have been glowing, with players posting fantastic reviews.
But video games and their developers have often been criticised for portrayals of violence towards women, and RDR2 is no exception.
The game is set in the US Wild West and gives players the ability to take control and act out violence towards other game characters. This includes physically assaulting and killing the female character, a suffragette, who